IN-TRANSIT:
The Story of a Journey
Sadie Vernon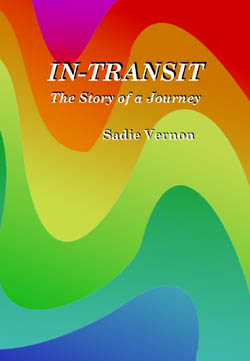 IN-TRANSIT: The Story of a Journey is the autobiography of Sadie Vernon, which is edited by Judy Lumb and published by The Angelus Press - 206 pages (2000). When those copies were gone, IN-TRANSIT:The Story of a Journey was republished on-demand by Producciones de la Hamaca in 2019. It is available on Amazon. Because Ms. Sadie Vernon is no longer with us to approve any changes, no changes have been made in the text. Some of the photos are no longer available, so some different photos were substituted.
"I have known Sadie since 1954 when my father and mother Marcus and Evelyn Kendall sponsored Sadie's visa to visit the United States. She has been such a vital part of our family and a part of my family, too. She often called out of the blue when Elmer and I were facing some challenge in our lives. She would say, 'What's going on up there?'
"The Lord had made her aware that we needed her support and council. She helped raise our three children and to this day she is Aunt Sadie to our children and grand-children. She is family to us. And we are realistic because we know she has been a part of so many lives and given unselfishly of her talents, abilities and self to one and all she ever met and shared precious moments with throughout her journey on this earth. She is a living saint among us." Maxine Featherston
Angola, Indiana
"Having worked at the Belize Council of Churches for some years (in the 1980's) I was fortunate to know Sadie, and witness her gifts and talents. She was always ready to help someone up with a tender hand, through her love, tenderness and spiritual intellect. Sadie is an inspiration to us all." Rosemary Stadler, Greensboro, North Carolina
"Apart from being a spiritual biography, it is also a social commentary, coming from a writer who is fully qualified to relate her experiences and at the same time 'preach' so many telling and relevant sermons within the first six chapters of the book; and then summarize these so philosophically in Chapter Seven as she gives us poignant insights into living, learning, and sharing. The book is truly a journey for Sadie Vernon, as throughout its well-travelled pages it stirs us to meditate and better understand what it is to be a Christian. It is a journey we should all take as we travel with Vernon and learn truths such as: society lacks the will to teach children 'the good, the givingness of God and the ordered life'; 'Don't write yourself off'; and the ultimate tenet of communication: 'If you want to know something very badly, keep your mouth shut and your ears open.'" Lawrence Vernon, 2000, Belize City
In this autobiography we see the heart of Ms. Sadie Vernon. We see what made her such a compassionate person. She always believed in people regardless of what anybody else thought of the person. She never gave up on any one. She always believed that there is something that can be done to help reach and touch the person so as to make him or her have hope in a very difficult world. That is why she impacted Belize with all the social and educational programs she was able to help develop. That is why she leaves a legacy, not of programs but of a genuine unselfish love and service to God through her devoted service to the Church and the people of Belize. In a real sense she touched our hearts with her heart. Rev. Moises Chan, 2000, Pastor, St. Andrew's Presbyterian Church
From the PREFACE
"Knowing Sadie Vernon and helping to publish her story has been one of the great joys of my life. Before I moved to Belize in June of 1987, I had heard of Sadie Vernon's work in Belize from a Friends publication. I had intended to look her up, but forgot until I heard on the news that she had been made a Commander of the British Empire. I wrote her a letter and we soon met. From the time I met Miss Sadie I was in awe of her presence and her position in the community. She invited me to come to the Friday morning worship service for the Continuation School. I attended, but I slipped out quietly at the end, not wanting to be a bother. The next time I saw Miss Sadie, she chided me for disappearing and said I should have stayed to chat with her. From then on, I made it a point to visit her whenever I was in Belize City. I always felt like she could see right through to the heart of me. Reflecting later upon those conversations I often found little jewels, profound wisdom that addressed some issue in my life I had not even mentioned.
"I was really honoured when she asked me to help publish her autobiography. It is a story of great courage, faith, compassion, and spiritual depth. She tells of her happy childhood in Belize City, her sorrow at the loss of her mother, her adjustment to life in Jamaica, her teaching successes, her nursing experiences in the United States, her ecumenical work with the Belize Council of Churches, and her unusual visions and dreams. Before she gets a vision, Miss Sadie tells us that she first sees swirling colours, which are reflected in the painting on the cover of this book and the graphic at the beginning of each chapter.
"Working with her words has been a very fulfilling experience. When she writes of an experience, she does not reflect upon it from the present, but puts herself there, in that time and place. She uses the vocabulary of that time and prefers the King James translation of the Bible, the Bible of her childhood.
"When Miss Sadie was growing up, the country that is now Belize was British Honduras and the city was referred to as Belize. She introduced herself as being from Belize, British Honduras. In the late 1970s the name of the country was changed to Belize and the city became Belize City. The word "Belize" is used in two ways in this book, in the early years to mean Belize City, and in the later years to mean the country of Belize.
"One aspect of Miss Sadie's style of writing may be difficult for some readers. In describing her experiences with race relations in the United States in the 1950s, Miss Sadie uses the word "coloured" to refer to herself and to those who are now called "African-Americans." It was the terminology used at that time and has been maintained here to be consistent with her style of writing. For the same reason, some language is used that would now be considered sexist. To change her words to reflect current vocabulary seemed artificial and, as her editor and with her concurrence, I chose not to violate the integrity of her writing.
"Miss Sadie has been important to many lives in many parts of the world, but especially here in Belize and in the United States, so there are two Forewords, one from each country. As she has counselled and inspired many, many people, it is our hope that the publication of her story will continue to counsel and inspire." Judy Lumb, Editor, 2000, Caye Caulker, Belize