Ending Cycles of Violence II: Kenyan Quaker Peacemaking Response to 2007 and 2013 Elections
Judy Lumb, Kathy Ossmann, Joe Ossmann, David Zarembka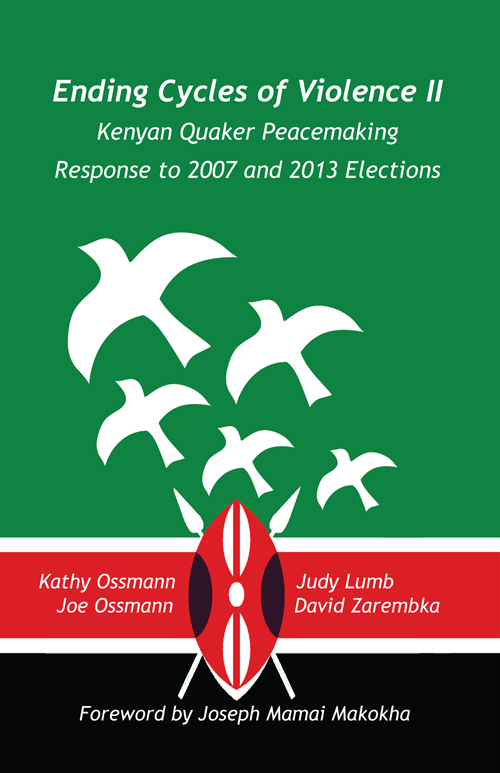 Ending Cycles of Violence II: Kenyan Quaker Peacemaking Response to 2007 and 2013 Elections was written by Judy Lumb, Kathy Ossman, Joe Ossmann, and David Zarembka, and published by Producciones de la Hamaca, Caye Caulker, BELIZE - 200 pages (2013)
Available from Amazon.com and Amazon.co.uk
Ending Cycles of Violence II: Kenyan Quaker Peacemaking Response to the 2007 and 2013 Elections
is an update of
Ending Cycles of Violence: Kenyan Quaker Peacemaking Response after the 2007 Election
, which documented the efforts of Friends that reached many Kenyans with humanitarian relief, counselling, and the ongoing AVP and HROC work. They all prayed that the work was enough, that the 2013 election would be peaceful and Kenya would develop a culture of peace in the future.
Ending Cycles of Violence II adds the story of the mostly peaceful 2013 election and the work of Quakers to make it so. Citizen reporters were trained. They observed throughout the campaign
and made their reports anonymously via text messages (SMS).
Voter education prepared the voters for all the changes ensuing from the new Kenya constitution. Accredited election observers reported on the election itself.
The extensive community peacemaking through trauma healing workshops in the Mt. Elgon area was thoroughly assessed with findings that were "overwhelmingly positive, making it clear that
[Friends] programmes have bettered the lives of individuals on Mt. Elgon and moved the culture there toward a more peaceful one."
For anyone who bought Ending Cycles of Violence, the updated sections are available for free download (click here).